100 Nights of Summer: Days #1-3
Location: Nîmes, France
Stats: 50 Artists, 4 Stages, 3 Days
Genre: Indie Rock
The sunny skies of southern France welcomed me to one of the country's largest indie rock fests. This boutique festival held in the super charming city of Nîmes remains an undiscovered gem for getting up close and personal with some amazing acts. This is Not a Love Song (TINALS) also impressed with the age diversity of the crowd. Families with small children rubbed shoulders with older rockers and teen hipsters.
Some highlights from the weekend:
6:25pm
Back to work
It's been just over a year since I embarked on my previous adventure — 15 festivals, 15 countries, 15 weeks. It feels good to be back. First stop is an indie rock festival that I only heard about a couple months ago when I stumbled across this super sick lineup.
6:55pm
My wrist has felt naked for the last six months
7:05pm
Dilly Dally in the Grand Hall
The first official show for 100 Nights of Summer! Katie Monks from Toronto's Dilly Dally sounds like she smokes a pack of cigarettes chased by a fifth of Jack before every show and just crushes it. Couldn't be happier that this is the first act I caught during 100NOS.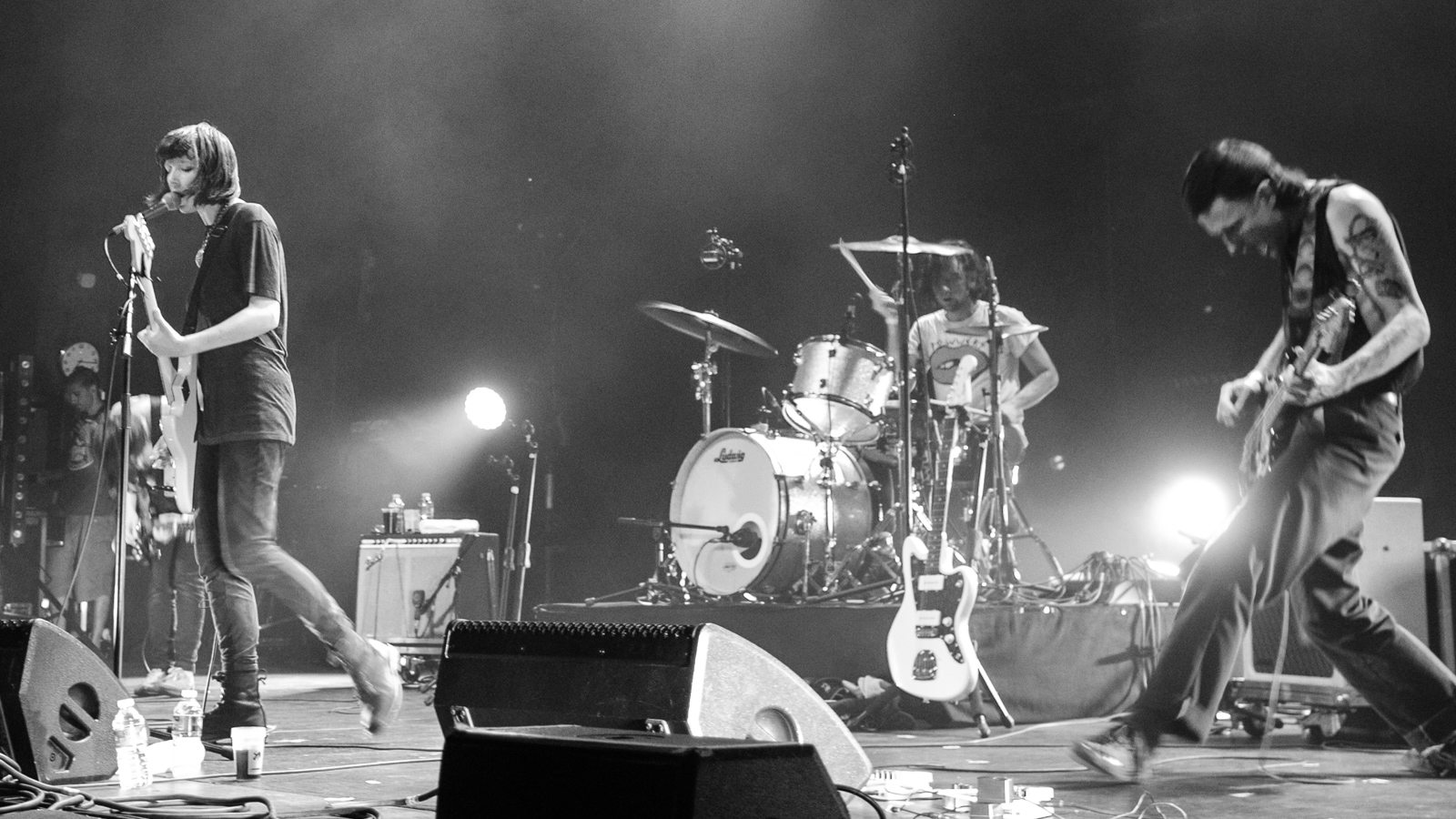 It may be bright sunshine outside, but the Grand Hall makes every show feel like a sweaty 2:00am performance in a pitch black club. Here's the song that made the crowd go all nuts.
7:36pm
Ty Segall and the Muggers at the Flamingo Stage
It's nothing but bright sunshine as I head to my first outdoor show with Ty Segall and the Muggers. These guys are hitting the festival circuit hard this year and it's worth it to catch the show as they bring a bit of swagger back into rock n' roll.
8:22pm
Destroyer making us feel stuff
8:45pm
Meet the venue!
Paloma, the performing arts center of Nîmes is located on the northern edge of the city. It's…an interesting design to say the least. At some angles, it reminded me of "the beast slouching towards Bethlehem" and at other angles (and much less pretentious) it looked like a giant brown turd.
Two of the four stages can be found in here — the Grand Salle, a cavernous room with balcony and the dance friendly Club Paloma. Most of the outdoor action centers around the Flamingo Stage with up and comers performing nearby at the Mosquito Stage.
11:42pm
Foals rocking us into the night
6:47pm
Clouds on the horizon
While enjoying a quick beer and picnic lunch before heading into a show, the French guy next to me points at the sky and says, "Look. A monster cloud". He was right, but it turned out to be a gentle monster and the rolling thunderstorms were over in hours.
7:45pm
Gospel punk with Algiers
Rain on the outside meant a packed hall on the inside. They fully delivered with a foot-stomping, ass-shaking set to a packed room in the La Grande Hall.
7:45pm
Elvis has entered the building
If there's one breakout star of the weekend, it has to be French Elvis. I've seen plenty of "festival marriages", but never one with a Las Vegas style ceremony complete with a laugh-a-minute Elvis, men in wedding dresses, and impromptu sing-a-longs.
8:36pm
I'm peeing into a bucket of sawdust
Amazing bathroom solution for a festival with these super clean composting bathroom facilities. I took these shots on a Saturday and the place still looks spotless.
7:50pm
Lush.
9:32pm
Art everywhere
This wasn't at the festival but I found this sick mural in a rain sewer across the street from TINALS under a McDonald's parking lot.
11:45pm
Dinosaur Jr. closing out Saturday night
I'm not the greatest photographer. Maybe it's because during shows like this I just can't stop jumping around. Be more professional man. Anyway, Dinosaur Jr. still sounds fucking great. Hopefully I'll be able to see them a few more times this summer.
4:45pm
Meet A Festival Fan: Marcel from Switzerland
I don't get starstruck by artists, but I do lose my mind when I see kick ass campers like this one. Marcel and his buddy from have been camping in the parking lot for all three days and as I'm warned — "don't smell very good." They tell me about 50 others have been crashing here for the festival. Then they offer me quite a bit of vodka. I'm prepared for Sunday!
5:07pm
Flower crowns, button crafting, and French drinking games
Between the flower crowning, old school video games, hat design, and button workshops, there was plenty to keep busy between sets. There's also some bizarre French peg throwing game that I literally was never able to figure out.
6:32pm
The TINALS choir covers Destroyer's Times Square
TINALS featured a roving choir that would break into song around the festival grounds. Here they are making a special appearance at a festival wedding. Watch for Elvis dropping some moves towards the end. Fun fact: one of the singers ended up being my Air BnB host.
9:45pm
Sunsets, music, and hamburgers
After seeing drool-worthy food all weekend, I decided to track down dinner at one of the excellent food trucks at TINALS. This disarmingly charming duo from FollyBun's set me up in hamburger nirvana. Just seeing this picture is making me hungry again.
Full of burgers and beer, I did manage to catch this fantastic set from Tortoise where I swear every member can play every instrument.
11:43pm
Beach House finishing up TINALS 2016